70's Outfits: Inspiration and Style Tips
In this blog you'll learn:
Some 70's fashion trends you can still wear today

How to easily style 70's outfits

How to add a 70's statement piece to an everyday look
70's Fashion: 
Seventies casual style can be described as flowy, flared, and relaxed. Some of the most common 70's fashion trends include:
Bell bottoms and flare pants

Platform shoes

Flowy dresses

Bell sleeves & halter tops

Floral prints & warm, neutral colors

Jumpsuits
Flare Pants:
Flare pants were a staple of the late 60's and 70's. Here are some pictures of authentic bell bottom and flare pants outfits.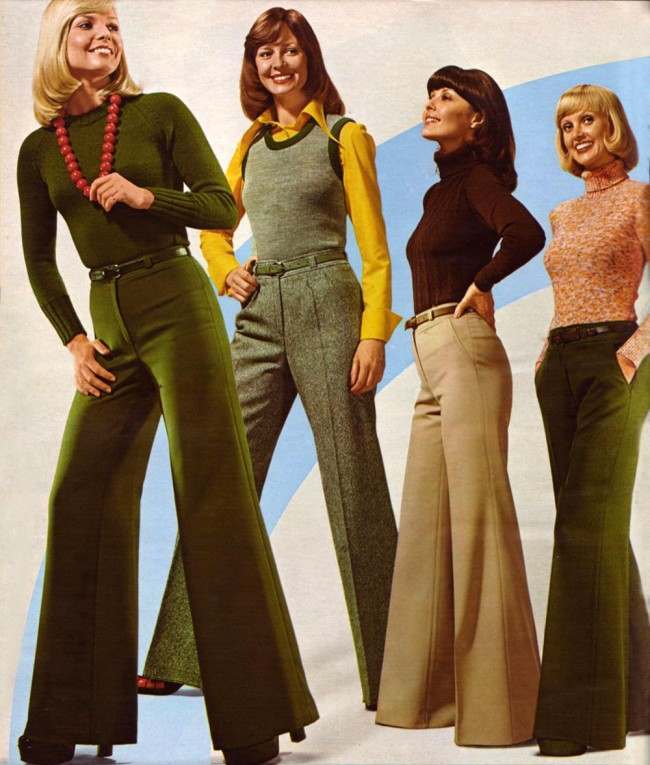 Check out our Bell Bottoms Style Guide if you need more outfit inspiration.
Platform Shoes
Since bell bottoms tend to run on the longer side, it's no surprise that platform shoes became the most popular shoe style. Platform heels or boots will make any 70's outfit even groovier and give you that boost you need to keep your flare pants from dragging.
Here are some more tips on how to style platform heels and how to style platform boots!
Flowy designs:
Seventies fashion is the epitome of bohemian style. Maxi skirts and dresses were especially popular in the 70's along with flared and bell sleeves. Form fitting outfits were more trendy in the 60's, relaxed and wider looks were more of 70's style. Think, wraps, kimonos, shawls and more of a whimsical vibe.
Picture from Nine Lives Bazaar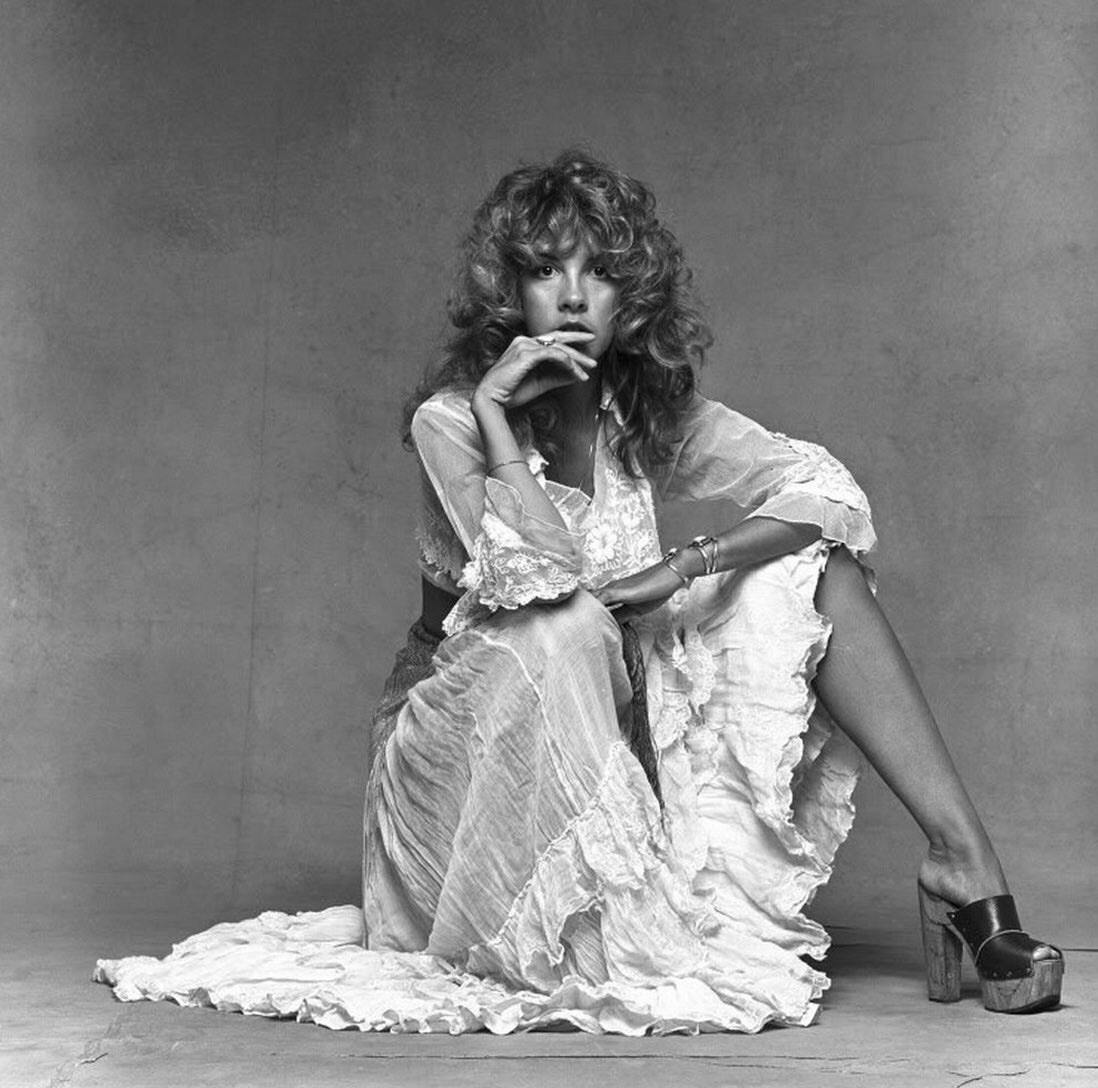 Prints and Color Scheme:
Floral prints were trendy in the 70's along with bold, geometric based patterns. Plain prints like stripes and checkered were also popular. Warmer colors like orange, brown, and yellow were very common in fashion, home designs and even artwork.
Image source: Soxy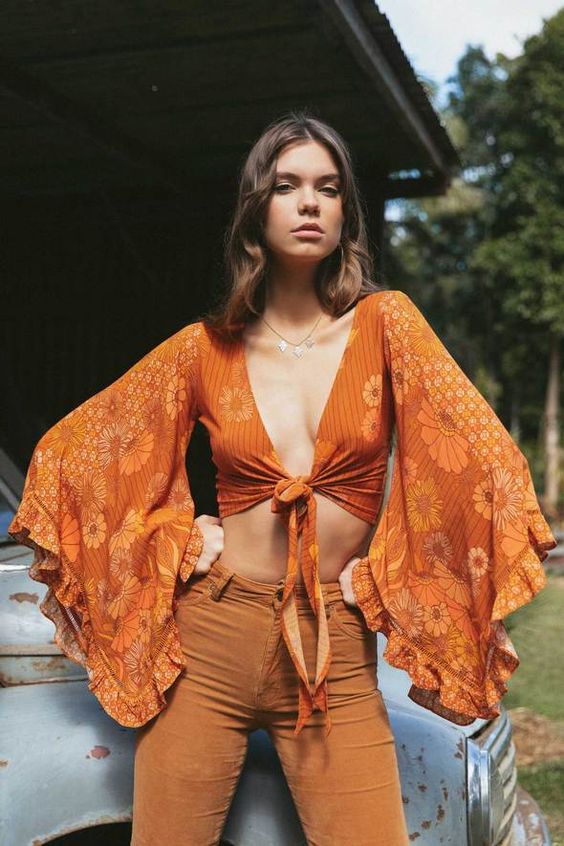 Image source: Chasing Daisies
Easy 70's Outfits:
1) Maxi skirt, flatforms, bell sleeve top
If you're a boho girly you probably have a ton of flowy maxi skirts and dresses. For a quick and easy 70's look get your favorite maxi skirt and pair it with a pair of flatform sandals and a bell sleeve top.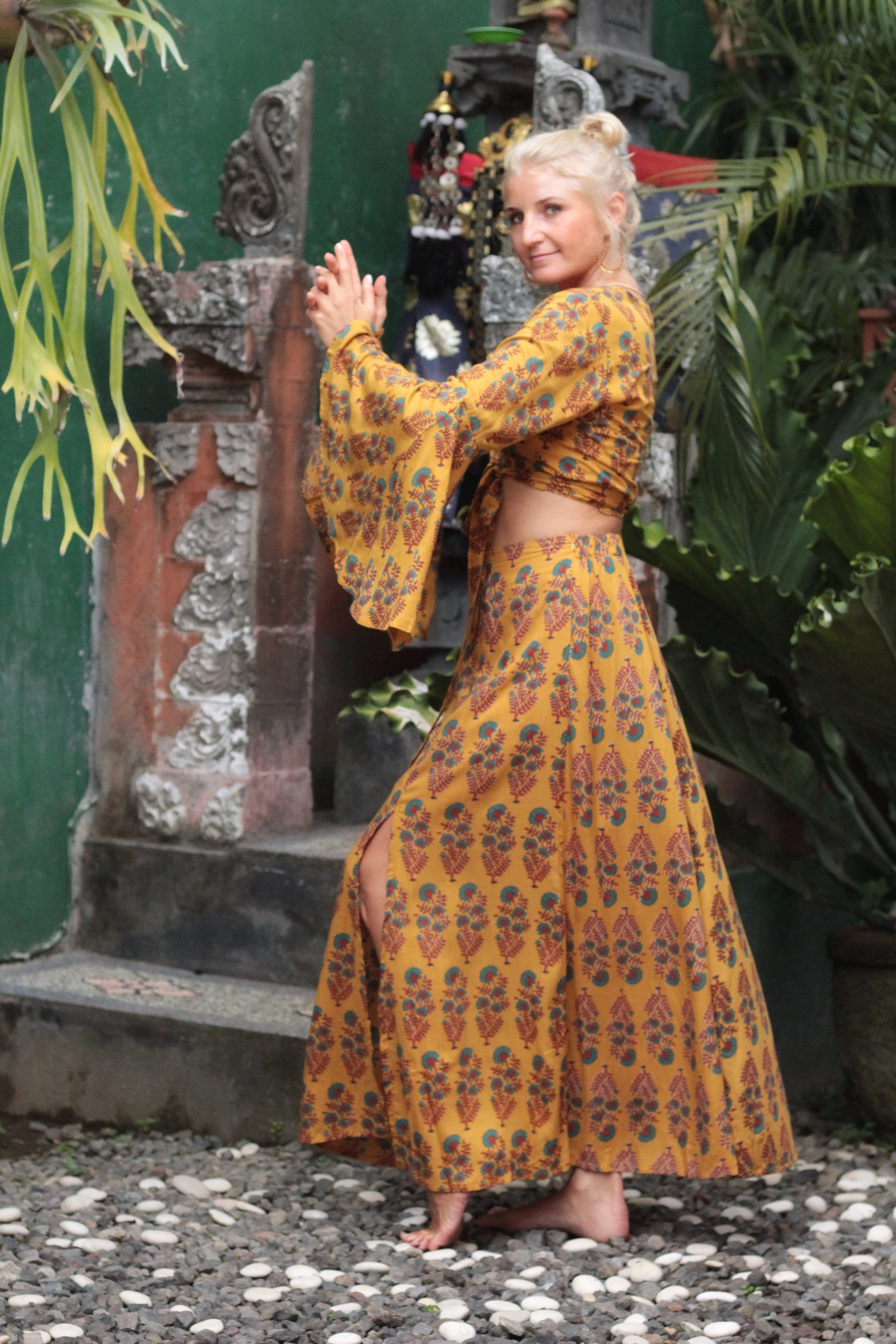 Image source: Etsy
2) Flare pants, platform boots, halter top
You just can't go wrong with a groovy pair of flare pants. They'll instantly give you the 70's vibe you're looking for. Pair it with some platform boots and a halter top to go all out!
3) Jumpsuit
This is the easiest outfit of the bunch. Throw on a jumpsuit and accessories. For a more 70's feel go for wide leg jumpsuits, maybe even a denim or corduroy jumpsuit. Bonus points for flared sleeves!
If you're looking for more of a 70's party look instead of casual, check out our blog on what to wear to a 70's party! 
I hope this gave you some amazing outfit ideas! I'd love to hear your thoughts.
If you have another easy 70's outfit to add, let everyone know in the comments below!
Stay Groovy xx
-Lynsey 
Head of Design and Marketing at Nectarine Dreams