It's no surprise that bell bottoms, flare pants and wide leg pants are trendy again but how should you style them?
Since flare pants tend to be on the longer side, you'll most likely need a shoe with some type of heel to it. Platform shoes have also been super popular lately and would go perfect with a pair of bell bottom jeans or wide leg pants.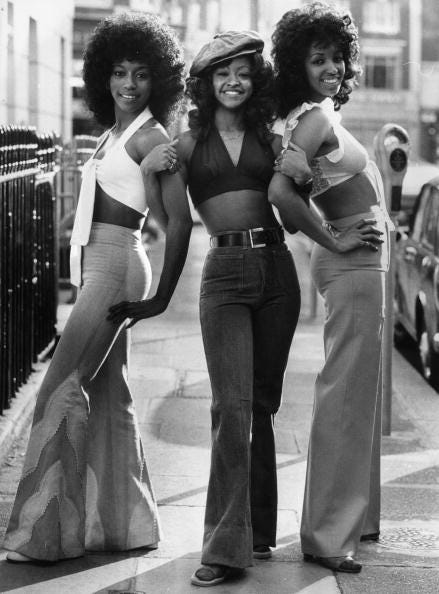 Platforms
Platform shoes are an easy way to elevate your look. If you're going for a retro, 70's vibe then platform heels or boots are ideal. If you have a pair of platform clogs or flatforms, those would work too!
However, the chunky dad sneakers that have been popular for the last few seasons might not work as well with flare pants. Platform sneakers have potential with wide leg neutral slacks for a chic, sophisticated look but not with a printed pair of bell bottoms. 
 If you need a new pair of platform shoes, check out our collection of 70's inspired platform boots and heels!
Wedges
Another shoe style would be a pair of wedge heels or sandals. Wedges are timeless, they're basically always in style and can be worn with a variety of looks. Wedge shoes will give you that boost you need so the length of your pants is not an issue.
You can go for a neutral-colored pair if you're rocking a colorful pair of pants or if you're in bell bottom jeans why not make the shoes a statement piece and go for a pop of color. 
Ringer T Shirts
Ringer t shirts were a staple of 70's fashion and would look amazing with your pants. Think of the shirts with a different color lining the neckline and sleeves (see photos).
This would be more of a casual look that's comfy yet still stylish. If you can find a band tee that's a ringer style, even better! You can easily find these shirts at your local thrift store. Striped ringer shirts were also pretty popular in the seventies and often worn with flare pants. 
Bell Sleeves
Bell bottoms and bell sleeves pair so well together and can give you that bohemian, retro look that is a timeless classic. Dramatic flute sleeves can make any fit so much more feminine and whimsical, the bigger the better!
You can even go for a witchy style if you match a pair of velvet flares and a black sheer top with bell sleeves, black platform boots and maybe even a corset if you've got one. If you're going for a more relaxed, girly look you can pair a white lace up, flute sleeve top with a pair of bell bottom jeans and clogs.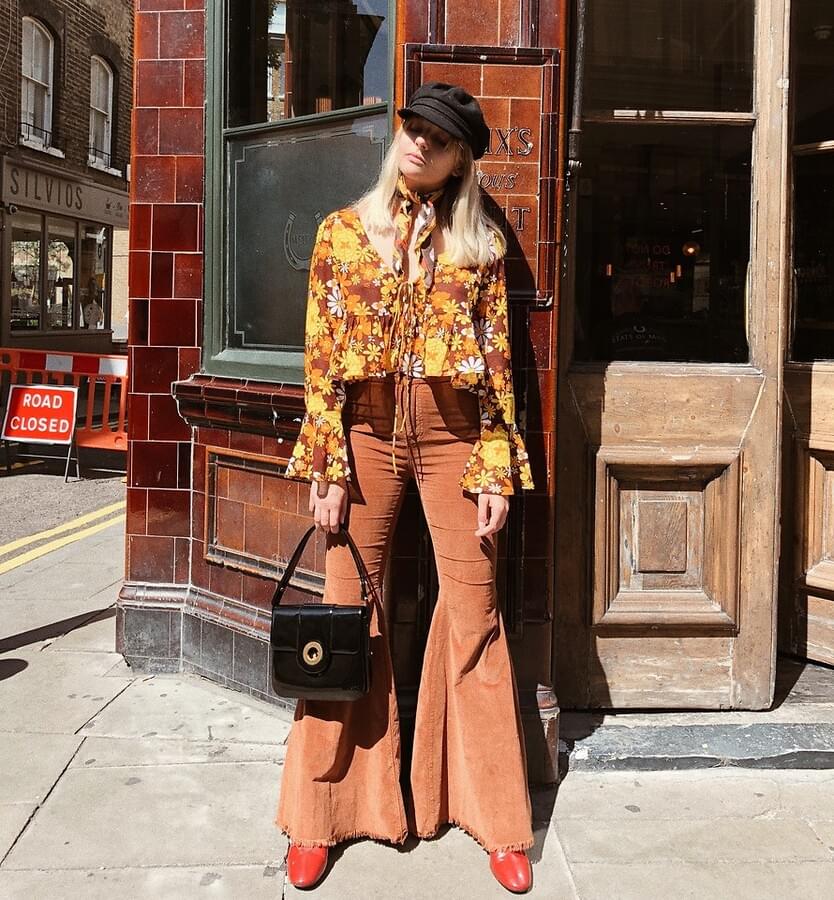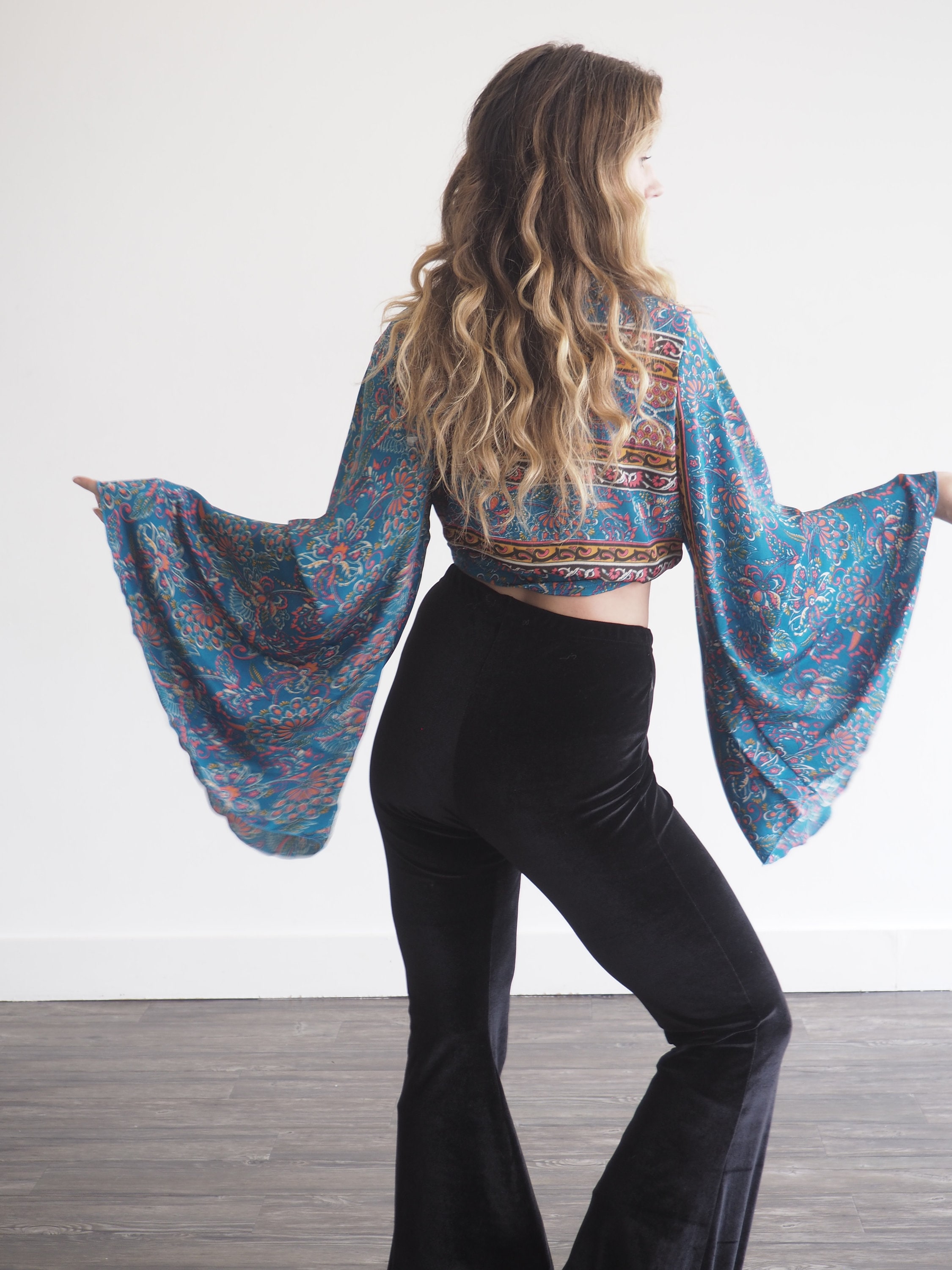 Vintage Vest
If you're sticking with the 70's aesthetic a vintage vest is a great way to layer your outfit. I would choose a basic tee shirt to go underneath the vest. A crochet vest or patchwork vest would look so groovy!
Suede vests were also pretty popular in the 70s and worn frequently with flare pants. Go to the thrift and check out the vest section. You might score the perfect vest to go with your bells.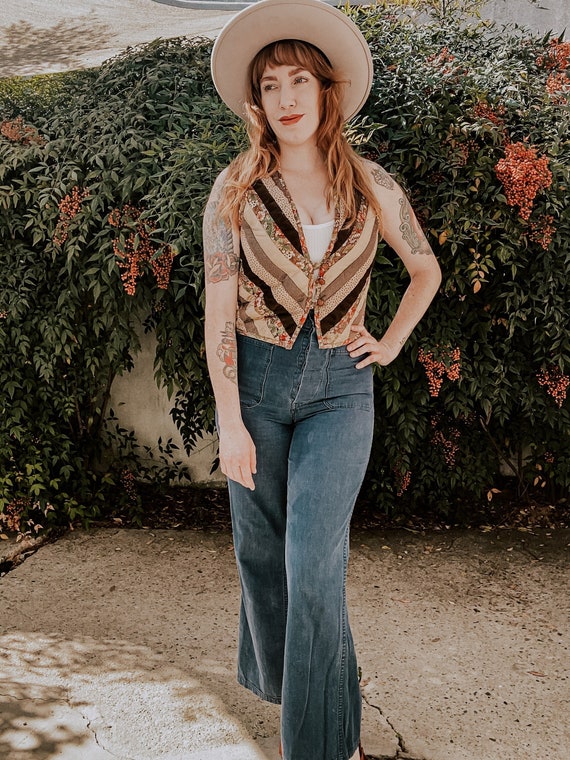 Crop Top
An easy way to put your look together without thinking too much about it is to throw on a crop top. A cropped shirt or even a tube top would be super cute and fun. You probably already have a few crop tops in your closet already so you can just pick one, put it on and go.
If you're wearing denim you can pick out any color or pattern and it'll go with your pants. If you're wearing colorful pants with a print on them I would stick to a crop top with a color from the pants or a white or black colored crop top.
Whatever You Want
Your style should be personalized around you! Yes the trends are fun but what makes them even better is when you add your own personal touch. 
As always, wear what YOU like and feel the best in! 
Thanks for checking out our blog. If you enjoyed this one check out the rest of our style guide here!
Peace & Love,
Lynsey from Nectarine Dreams