In this blog you'll learn about 
How to dress like the 60's and 70's

How to tell the difference between the two decades

60's and 70's fashion trends
60's style:
Sixties fashion is full of bold colors, prints, and color blocking. Mini skirts and dresses were especially popular along with psychedelic fashion and space age inspired looks. 
70's Style:
The seventies casual attire consisted of a lot of wide and flowy designs like bell bottoms, flare sleeves and boho style maxi dresses and skirts. On the other hand, disco fashion was full of plunging v necks, jumpsuits and lots of sequins and glitter.
(left: 60s right: 70s)
Here's a breakdown of the most popular trends of this time period and which decade they're from:
When were platform shoes popular?
The seventies made platform shoes iconic. They we're perfect for every style including disco, hippie, casual, witchy and more. They give you that much needed boost when you're in a long pair of flare pants. If you're going for a 70's outfit, platforms are a must! 
When were gogo boots popular?
The most popular shoe trend of the sixties were go-go boots. Go-go dancers were common in the sixties. When they danced at clubs like Whiskey A Go-Go they typically wore patent leather knee high boots. This quickly became a staple in womens fashion, especially since space age inspired looks were also very popular.
60's mini skirts and mini dresses:
Going back to 60's fashion, mini skirts and dresses were also made popular by go-go girls. If you're going to a 60's party, an easy look would be a colorful mini dress and go-go boots. The micro mini skirt was coined in the 60's and still makes an appearance in modern fashion today.
When were bell bottoms popular?
These fancy pants are back in style and are inspired by 70's fashion. Flare and wide leg pants were added to just about any look back in the 70's. They were added to jumpsuits, tuxedos, overalls and more. Anything flare, wide and flowy can generally be thought of as 70's fashion.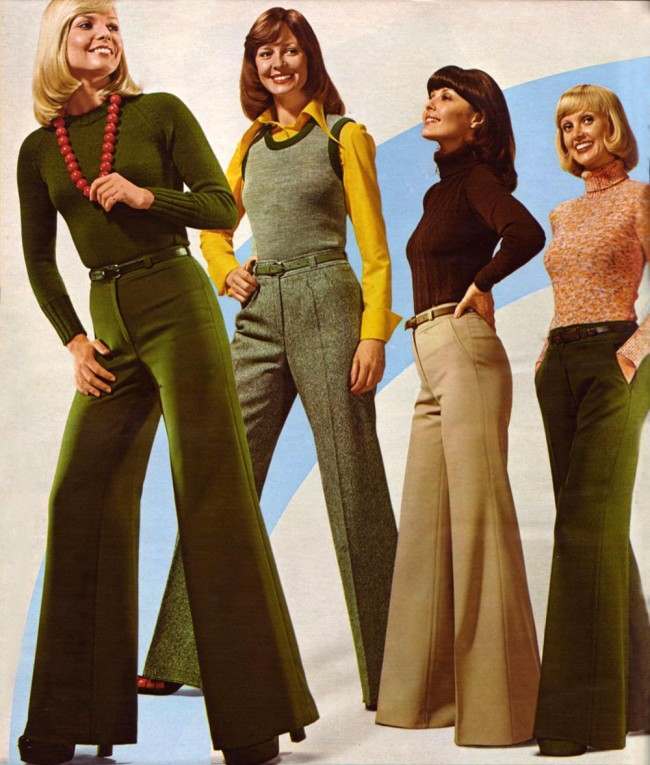 When was mod fashion popular?
This style comes from the 60's and includes a lot of color blocking patterns and layers. Shift dresses, colorful tights, bold colors, scarves, mini skirts and dresses all represent mod fashion. This style was popularized by the British invasion and by English models like Twiggy.
Psychedelic Patterns & Tie Dye:
The late 60's popularized psychedelic patterns with the rise of hippie culture. These patterns were applied to just about anything, pants, skirts, dresses, shoes, bags and more. Tie dye was most popular in the 60's and early 70's. It became a creative way to protest the Vietnam War. Most of the trippy hippie looks people associate with the 70's are actually reminiscent of the 60's.
When were jumpsuits popular?
Jumpsuits started to rise in the late sixties and became even more popular in the seventies. The one piece outfit was worn by both men and women in the 70's. Whether you're on the dance floor, going to a formal event or just running errands, jumpsuits were perfect for any vibe in the 70s. 
Flare & Bell Sleeves:
The iconic bell sleeve look took off in the seventies and still makes an appearance in modern boho fashion today. They're flowy, whimsical and dramatic all at the same time. Who doesn't love a good statement sleeve?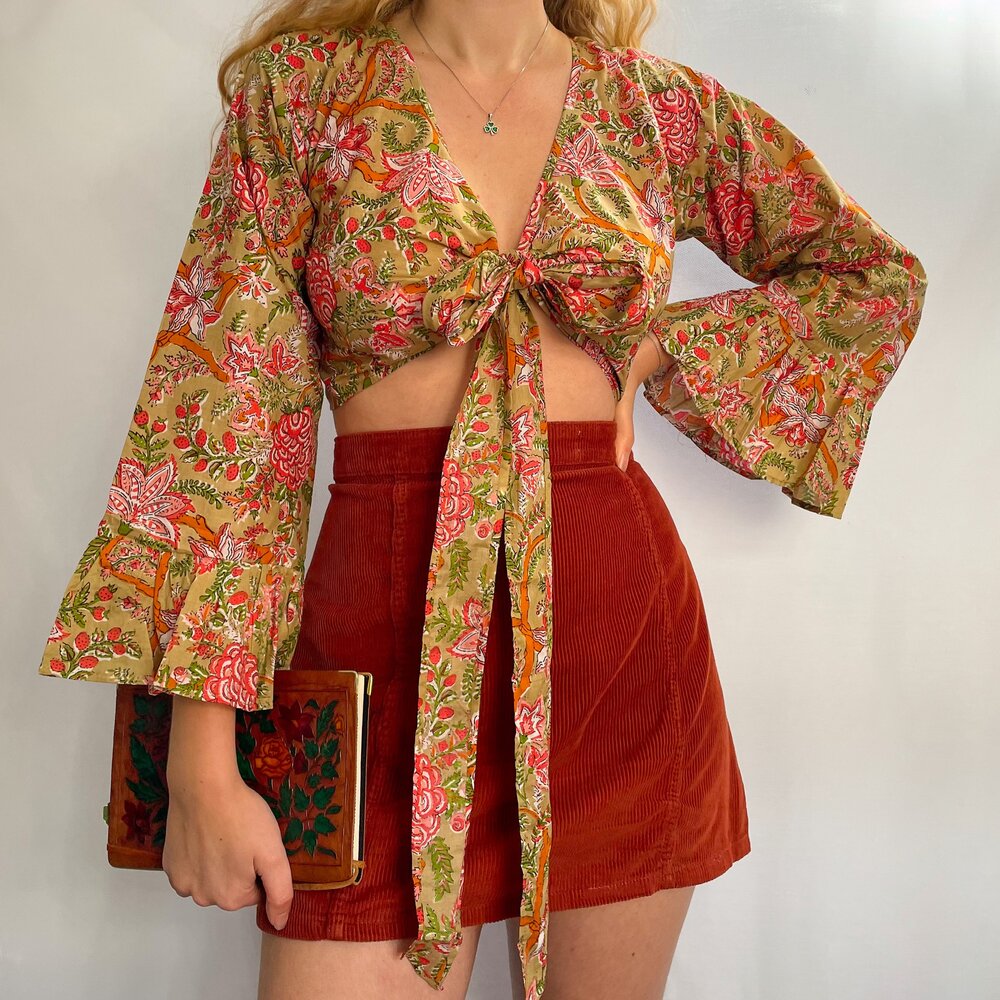 I hope this helps and inspires your next retro inspired outfit! 
For more info, check out the article on 60's & 70's Fashion Icons.
Leave a comment below what your favorite sixties or seventies fashion trend is. 
Peace & Love,
Lynsey 
Retro Fashion Connoisseur and Owner of Nectarine Dreams